Pip-art
home | sculpture | paintings | nude | abstract | cats | info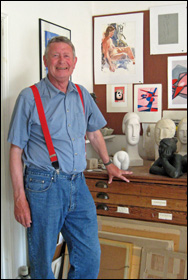 Pip Collyer has been drawing and painting for almost 50 years. His particular interest in drawing people manifests itself in the many pen and wash sketches produced over the years of busy street and market scenes both in Norwich and on his travels in France and Italy. This is supported by regular life drawing from which he produces work in pencil, pen, charcoal and pastel.

In recent years he has concentrated more on sculpture and, based on his life studies, builds figurative sculptures which are cast in bronze resin. He also carves stone and produces abstract sculptures inspired by stones found on the beaches of Norfolk and Suffolk which have been shaped by millions of year's exposure to tide and weather. Most sculptures are worked to a smooth round tactile finish to mirror this natural shaping and often incorporate cut lines to echo the veins found in rocks and stones.

This has also led to a number of abstract paintings based on the fractures in rock formations and these are made by adding acrylic paint to black and white monoprints.

C o n t a c t d e t a i l s

Visitors to Pip's studio in Norwich are welcome by prior appointment.

For more information, to purchase a work, or arrange a visit to the studio please:

E-mail: pip@pip-art.co.uk


C o m m i s s i o n s

Please contact Pip if you are interested in commissioning a picture or sculpture.


Site design by Webdaisy
Pictures Copyright Pip Collyer 2003 - 2021.
Prices quoted do not include framing, postage or packing. Sizes are approximate.
Colours - due to variances among colour monitors the colours that appear on your screen may not be exact.